Mapping the Home Buying Journey: Part 2
Last month, we talked about how the way someone buys a home has changed, and how marketing a house should follow suit. How the digital age has vastly changed the landscape for today's home owners and the journey they take.
This month, we'd like to take you to the next stage.
The following is the second excerpt from our ebook "A Builder's Guide to Mapping the Home Buying Journey".
Introducing Content Marketing
If your marketing is still heavily focused on using traditional tactics like radio, print, display, and signage, you're losing market share to your competitors that are putting their focus into digital marketing. And while content marketing isn't a new tactic, it's still relatively unused, or not used effectively in the homebuilder industry.
You need to shift your focus to attracting buyers to your brand, getting their permission to market directly to them, and following them through each step of their buyer's journey using relevant and helpful content. Furthermore, this content should be presented to your prospects through the mediums and platforms they're already using to consume content.
Online, prospects are using search engines to find resources, consuming and sharing content via social media platforms, and more. Digital content, therefore, is at the forefront of people's minds daily. The problem then, with attempting to market through these channels, is often the type of content being created by companies.
Most home builders' content fails to stand out above the noise and is either blatantly promotional or doesn't add value to the home buyer. While the mediums and platforms have shifted away from traditional methods, the content has failed to follow suit.
This doesn't do the home buyer any favours. They're about to make one of the biggest purchase decisions of their lives and they have questions they need answers to that they're looking for online.
So how can you find your place in this, and have your content stand out above all the noise?
The Home Buyer's Journey
Let's first consider the buyer's journey as it applies to home buyers specifically, and to the digital sphere.
As mentioned, a basic buyer's journey follows the stages of awareness, consideration, and decision, in which the following unfolds:
Awareness Stage: People have become aware of a problem they have and they are looking for answers, resources, education, research data, trusted opinions, and insight.
Consideration Stage: This is the "evaluation" stage, where people are doing research, exploring solutions, and comparing vendors to see whether or not their product or service is a good fit for them.
Decision Stage: This is the "purchase" stage, where people are figuring out exactly which actions to take to become a customer.

Based on this model, a home buyer's journey may look something like this:
Awareness: "My house isn't working for me any longer..." The prospect is realizing they may be in need of a new home and is starting to explore their options.
Consideration: "I'd like to buy a new home in the SE quadrant of the city..." The prospect is now seriously considering or has decided to buy a new home.
Decision: "I've found the neighbourhood and narrowed it down to 2 or 3 builders I want to work with..." The prospect will finalize their decision to work with a particular builder. You want that builder to be you.
Of course, there will also be many smaller decisions made along the way as well.
As we've pointed out, the decision to buy a home doesn't happen overnight. Each decision they have to make about buying a home involves a series of questions and answers they have to find. And they're spread out along their home buyer's journey: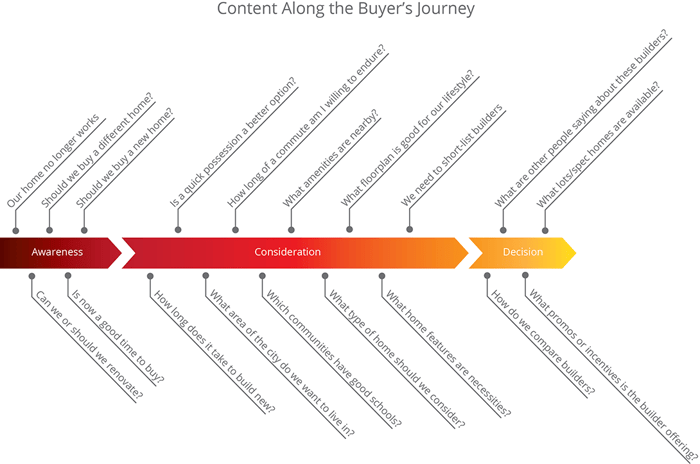 What's important and necessary for your business is going to be staying front-and-centre along their journey in order to establish rapport with your prospects in a new way. After all, if your prospects are not consistently finding your brand along their journey, you can be sure they're finding your competitors.
Reaching your audiences effectively can be done through content marketing, but again, the type of content you're creating must also be adjusted to fit this new framework.
Talking to prospects throughout the home buyer's journey means defining the path, discovering how prospects are navigating it online, creating content that finds them when they want it, and adjusting it to the market.
Paving the Path of the Home Buyer's Journey
With the blueprint of the home buyer's journey, there's ample opportunity to connect and interact with prospects through content marketing as well as social media engagement.
Content and information, and how easily accessible that information is to prospects is more important than ever. Prospects are going to search for this information regardless, and whoever provides the best source of this information for them is going to build instant rapport and position themselves as a helpful resource.
Shouldn't that be you?
As prospects move through each stage of their home buyer's journey, their objectives, how they behave, the information they need, and the type of content that will resonate most with them, changes.
A critical step in creating effective content that adds value is the process of mapping your marketing and your content to the different stages of the home buyer's journey. The more closely you align your content to the buyer's objectives at each stage, the more prospects you'll attract into your funnel.
See the following chart: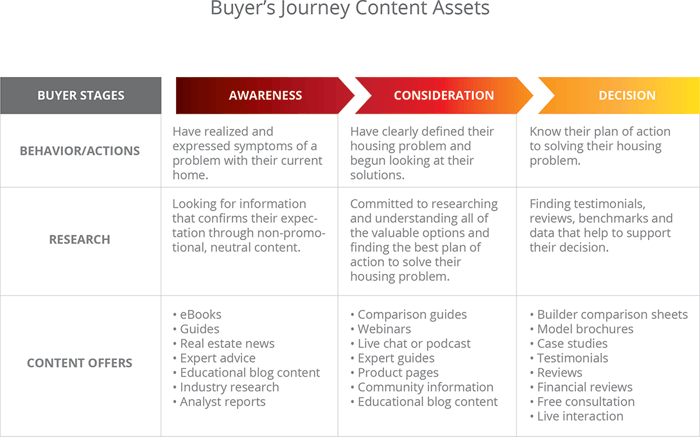 Keep in mind that the typical sales cycle for a home buyer can be anywhere between 5 and 18 months depending on the product you're selling and who you're selling it to.
The better job you do mapping your marketing, the more you can speed up the home buyer's journey and shorten your sales cycle. And this means more closings every year.
There's a major benefit to all this that's often overlooked...
If you have a marketing system in place that will nudge your prospects from one stage of the buyers' journey to the next, you can cut down the time it takes the prospect to do their research and get them out to your show homes faster and better prepared.
Click here to check out Part 1 of this series and keep an eye on our blog next month for Part 3!
Originally published Nov 5, 2019.
$('.post-single--social-mobile ul').html($('.post-single--social ul').html()); $('.post-single--social-mobile ul').find('li:first-child').remove(); $('.post-single--social-mobile').find('li').css('width',(100/$('.post-single--social-mobile').find('li').length)+'%'); setTimeout(function(){ $(".post-single--social-mobile").addClass("mobile-slide"); }, 2000);