Mapping the Home Buying Journey: Part 1
The way people buy houses has changed. This should mean the way houses are marketed has changed as well. But this is not always the case.
The following is an excerpt from our ebook "A Builder's Guide to Mapping the Home Buying Journey".
Consider this:
In the past, before the rise of the internet, when someone wanted to build a house, they had to primarily depend on these ways of connecting with a builder:
Word of mouth – speaking to relatives and friends, and connecting with a company through referrals.
Traditional advertising – referring to ads in newspapers, magazines, television, radio, etc.
Once they connected with a builder, they would get all the answers to the questions they had. The only way to do purchase research depended on visiting a showhome and gathering information from a salesperson.
This scenario is still in use by a lot of builders, but it's getting harder and harder to see success because it's such an inefficient approach for both the buyer and for the salesperson.
Today, it's a whole new world – it's the world wide web. This global digital connection has drastically changed not only the mediums and platforms available to marketers and advertisers, it has also drastically changed the process buyers go through in preparing to make a purchase.
The Current Scenario
The digital age has brought with it technology that allows prospects to skip commercials, screen calls, block out unwanted communications, and selectively receive the information and content that they deem to be relevant to their lives. This has caused a fundamental shift in the way they buy – one that marketers must recognize and adapt to.
It's getting harder and harder to force your marketing messages in front of prospects. This means that outbound marketing methods like cold calling, direct mail campaigns, print, radio, and other traditional advertising methods are steadily losing their effectiveness.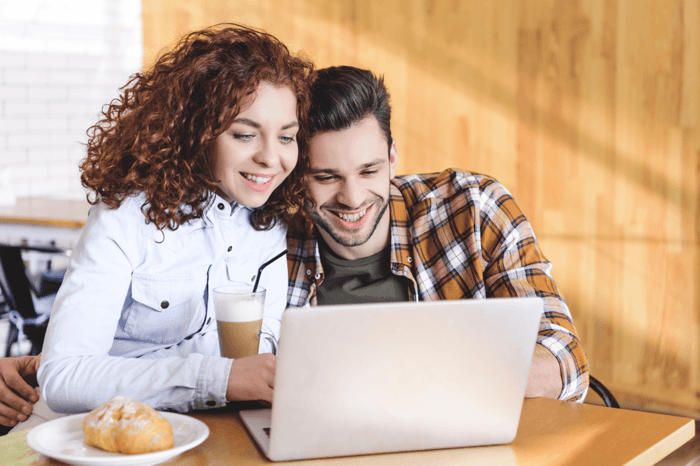 In fact, most home buyers today spend a lot of their time online finding answers to the questions they have and avoid interacting with a salesperson unless it's absolutely necessary.
That old saying "everyone loves to buy, but nobody loves being sold to" rings especially true today.
The Internet has opened up the opportunity for us as marketers to connect with potential prospects on virtually any digital medium in which they like to use. But the approach we take to engage prospects in the digital world is shifting. Today you have to earn people's attention.
So how do you do that?
To better understand this, let's walk through how people buy a home.
The Home Buyer's Journey
Buying a house is a major decision. It's probably the biggest purchase decision most people will make in their lifetime. As such, prospects make a series of different decisions leading up to their final decision to buy a home, and each of those decisions requires information.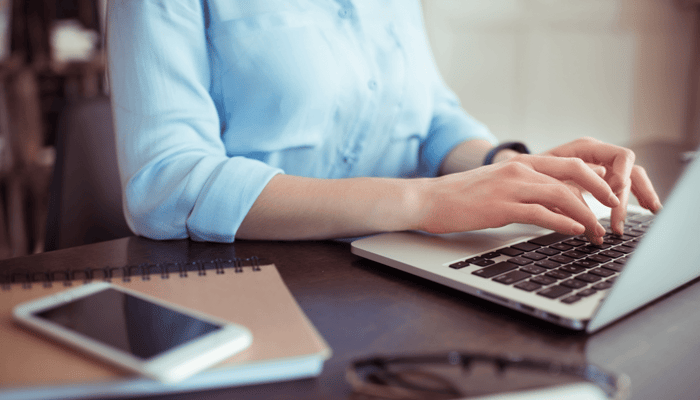 The modern buyer conducts the vast majority of that research online. They'll look at community websites, homebuilder websites, and seek out information about what's happening in the real estate market for some time before they ever make a decision to purchase. We all know that nobody decides to buy a home in a weekend. It can take many months, if not years, before a prospect is ready to buy a home.
The process these buyers go through is not anything new. It can be traced to match the basic "buyer's journey." The buyer's journey is a series of stages a buyer goes through before making a purchase decision and these stages are identified as awareness, consideration, and decision. At each stage, the prospect has different objectives. At a very basic level, the prospect becomes aware of a problem they have during the awareness stage, research and considers solutions to this problem during the consideration stage, and makes a final decision for action in the decision stage.
Simple enough, right?
Except the buyer's journey has changed.
In the traditional buyer's journey, it was up to Marketing to build awareness and then buyers relied heavily on Sales to gather the information they needed in order to make a purchase decision.
But now the internet puts all of the information directly into buyers' hands. This has shifted most of the work that Sales assisted with into Marketing's territory.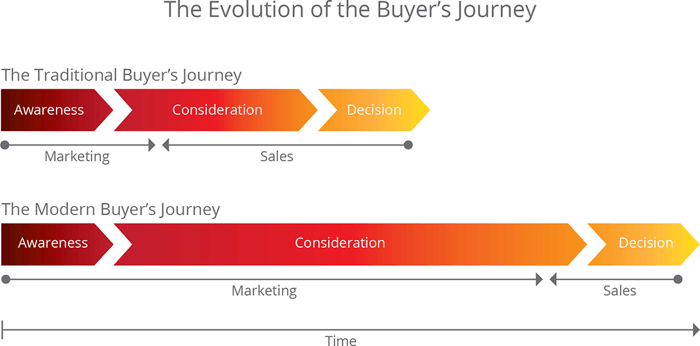 In relation to the home buying industry, though, the issue is home buyers are now going through up to 90% of the buyer's journey completely on their own (according to recent studies). This means 90% of a buyer's journey is completed before you, the builder or salesperson, even have a chance to interact with them. People are tired of being bombarded with advertisements and obvious marketing tactics, so their paths to buying involve a lot of re-routing to avoid such distractions.
This begs the central question: How can you regain a presence in your prospect's journey, and provide them with the information they need, without being forceful and just shut out once again?
The answer? Digital content marketing.
Come back next month to check out Part 2!
$('.post-single--social-mobile ul').html($('.post-single--social ul').html()); $('.post-single--social-mobile ul').find('li:first-child').remove(); $('.post-single--social-mobile').find('li').css('width',(100/$('.post-single--social-mobile').find('li').length)+'%'); setTimeout(function(){ $(".post-single--social-mobile").addClass("mobile-slide"); }, 2000);