Hiring a Marketing Agency: How to Convince Management to Make the Switch
Eventually, almost every business needs to decide whether it makes more sense to have an in-house marketing department or to outsource the work to a marketing agency.
And while our thoughts on the matter are probably pretty easy to guess, we recognize that there are plenty of good reasons to take care of things on your own.
Read time: 4 minutes

Level: Intermediate

Skip to the section you're most interested in:
However, what should you do when you start to think that an agency might be able to do a better job? How can you convince management that an agency is an investment worth making?
These tips can help you form a solid position that will hard for your management team to disagree with ;)
Take Stock of Your Talent
First up - who's doing the marketing work for your company right now? Is that person up-to-date on the latest methods and techniques? Are they focused solely on the marketing aspect of the business or do they have other job duties creeping in?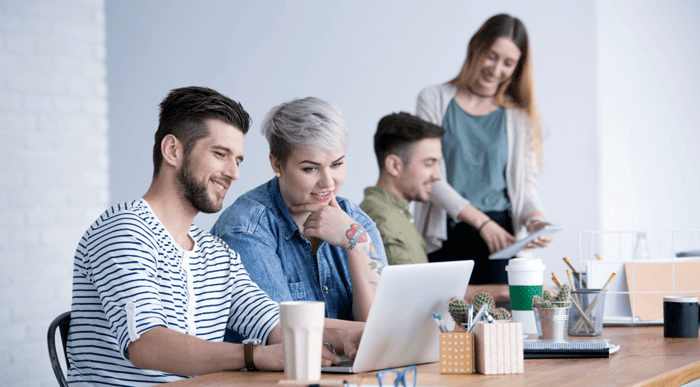 Often, small and medium-sized businesses have one or two people running the marketing show. If a marketer is torn between multiple job duties, there are things that are going to fall between the cracks.
They might be good at what they do, however, marketing these days requires a lot of effort.
You need to be able to decide what the message should be and then craft content that's perfectly designed for your customers. You need to understand the constantly changing landscape of website design and search engine optimization. On top of that, you still need someone working on other, more traditional marketing methods, such as home model brochure design.
If the person (or people) you have doing your marketing don't have all of these skills - and the time to perform all of the tasks - then it's a good bet that your efforts aren't as strong as they could be.
What does this mean for you?
Let management know that hiring a marketing agency will give you access to a deeper knowledge of current marketing trends, and it will free up your "marketing person" to do work that's more in line with their talents. Win-win for both sides!
Crunch Some Numbers
You just can't ignore hard data, and your management team could be swayed when they see how cost-effective it is to hire an agency.
At first glance, the monthly fee paid to an agency can seem like an unnecessary expense. What are they really doing for all of that money?
A lot.
Depending on your needs, the marketing agency could handle everything: researching customer needs, developing a marketing strategy, writing the marketing materials, and tracking success rates. If you were hiring in-house workers to take on all of those different tasks, you'd be paying much more in salaries and benefits versus a monthly retainer fee.
Additionally, don't forget to think about the potential cost of lost productivity when your in-house workers are in training, sick, or on vacation. An agency will have at least one person - and often several others - to back up each person so your business' marketing deliverables get completed on time.
What does this mean for you?
Break down the numbers for both options and lay it all out for your management team. Include whatever investment you can think of (reasonably!) on both sides. This would include both monetary and time.
Get Some Proposals
Talking about hiring an agency might be a little too abstract for the management at your office. Perhaps you'd do better by bringing in something more concrete.
When you get proposals from different agencies, you get a clear picture of what types of services they can offer your business and how much those services will cost. Keep in mind, however, you will need to at least have a rough idea on what kind of services you're going to need.
You can be confident that management isn't underestimating the role the agency can play, nor are they overestimating the cost. It feels like a more rational decision.
Check Out Hyper-Focused Agencies
Another reason that management tends to push back against the idea of marketing agencies is the assumption that a marketing company couldn't possibly understand the ins and outs of your particular business.
The agency might have a wealth of knowledge about marketing, but they simply don't have what it takes to get into the brains of your customers.
That might be true with general agencies, but there are agencies that focus on marketing in a specific niche. At Marketing Ninjas, for example, we only work with home builders. We help home builders optimize their sales and marketing so they can generate more quality leads, sell more homes, and grow better.
Other marketing agencies might focus on different industries, or maybe try to do a little bit of everything.
We appreciate your efforts to convince your management team that it's time to hire a marketing agency, but you don't have to do the work alone. Talk to us about your needs, and see how we can get started with helping your home building business grow. We can help ease the minds of the people in charge so you can focus on what you do best.
Originally published Feb 11, 2020
$('.post-single--social-mobile ul').html($('.post-single--social ul').html()); $('.post-single--social-mobile ul').find('li:first-child').remove(); $('.post-single--social-mobile').find('li').css('width',(100/$('.post-single--social-mobile').find('li').length)+'%'); setTimeout(function(){ $(".post-single--social-mobile").addClass("mobile-slide"); }, 2000);