A Complete Guide to SEO for Blog Posts
Guess how many blog posts are published each day?
Any rough idea?
Approximately 2 million blog posts. That means by the time you finish reading this sentence, over 40 people will have pressed the 'publish' button.
Astonishing, right? What's more interesting is that all these people are looking to have their blog posts rank on the first pages of Google search results. This is where search engine optimization, commonly known as SEO, comes in handy.
In a world where over 90% of all internet traffic comes from a search engine, appearing on the first pages of Google is critical for your business to thrive.
But how do you make your blog posts SEO friendly?
This article is a complete guide on how to boost SEO for blog posts.
What is SEO?
SEO, or search engine optimization, is the process of getting traffic from the free, organic search results on search engines. By optimizing the search parameters, you enhance a site's visibility on the search engines.
But what should you optimize?
Is it the content, design, or links?
To boost SEO for blog posts, everything should be optimized! This includes the content, website design, links and more.
Here's how Google SEO works - Google uses automatic algorithms developed precisely for ranking sites. During an online search, Google sends out what they call "spiders" to crawl your site and check it against over 100 indicators that determine a site's relevance.
These indicators include things like a site's content, traffic, domain age, backlinks, and more. The essence of SEO is to ensure those spiders are happy with what they find on your site.
As mentioned earlier, the process of boosting SEO for blog posts encompasses many elements. Here's a guideline you should follow to ensure your blog posts are SEO friendly.
1. Have an SEO Friendly Website/Blog
The first step towards enhancing your blog posts visibility in search engines is to ensure your website is ready for SEO. Navigation design is essential to both users and the search engine.
Your website's design, on-page optimization, and user experience all play a pivotal role in how your site responds to search engines. From SEO and traffic to conversion rates and branding, your website's design affects your entire online presence.
Here are the things to consider when it comes to website design and optimization.
Go for a Mobile-Friendly Design
Search engines always prefer user-friendly websites. On April 21st, 2015, Google released the Mobilegeddon algorithm, a mobile-friendly update that gave priority to sites that displayed well on smartphones.
Recent data from Statistics also shows that most people are accessing the internet via mobile devices, with the global traffic from mobile devices reaching 53%, up from 44% in 2016.
To boost SEO for blog posts, it's imperative to ensure your site is mobile friendly. The Google Mobile-Friendly Test Tool can help you to check whether your site is mobile friendly.
Install SEO Plugins
To boost SEO for blog posts, you might want to install SEO plugins.
These plugins make it easier for you to optimize your content's key elements such as titles and meta descriptions. Some plugins such as Yoast SEO can even help you to identify and fix serious SEO issues.
Some of the popular SEO plugins for WordPress include Yoast SEO, Broken Link Checker, Google Keyword Planner, and SEMrush. Other systems, like HubSpot, may have an optimization tool built into the blogging platform.
Check Site Speed
Your website's loading speed can make or break a deal. Studies show that 53% of visits will be abandoned if the website takes more than 3 seconds to load.
If it takes longer for your content to load, your customers are likely to hit the back button. Slow loading speed may be due to the content that needs be loaded (like really large image files) or the server on which your website runs.
Use GT Metrix or Google's PageSpeed Insights to check your sites speed and to determine if there are issues with your website's servers.
Ensure Your Site is Indexable
If your site can't be found by Google to be listed in the search engine results, all your efforts are in vain.
Problems that cause lousy indexing are in most cases related to the robots.txt file or the noindex meta tag. Check your site regularly to ensure nothing is blocking the web pages that need to be indexed in any way.
2. Perform Keyword Research
Once your website is up and optimized for SEO, the next step should be to perform keyword research. This entails identifying the terms or phrases people are searching for (also known as keywords) that you want your site to rank for in the search engines.
As a home builder who wants to appear on top of Google's search results, you can start by researching what's trending in your industry. A big change is coming to mortgage qualification? Your audience should know about it.
Sounds simple, right? Unfortunately, it's not that simple. Here are some key factors to consider before determining the target keywords to use.
Relevance
If a keyword phrase is frequently searched for, that's great. But is it relevant to your prospects?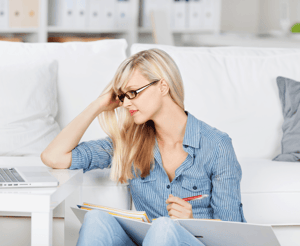 Since you are a home builder, you don't want your company to show up in searches that are not related to your business, like dog grooming services.
Sure, by optimizing terms that are not relevant to your business, you can attract good traffic. But this is from searchers who are not interested in building or buying a new home.
What about terms like "Resale versus New?" This precisely fits the description of what you do and will drive traffic from prospects who are looking for reasons on why they should build a new home versus buying a resale one. These types of keywords can boost the SEO of your blog posts.
Search Volume
You'll also need to look into the number of people who are searching for a certain keyword. The more the people searching for a given keyword, the bigger the audience you stand a chance to win.
Conversely, if no one is searching for a keyword you intend to optimize, you'll have no readers who will be looking for your content through search.
Competition
Once you're settled with relevant keywords, you'll want to understand the relative competition and your likelihood of success.
Make use of resourceful tools such as the CognitiveSEO Keyword Tool to learn more about your target keywords. This tool will show you keyword difficulty, search volume, and the top competitors ranking for the same keyword.
Another useful tool you can use is the Google Keyword Planner which can also give you ideas of what people are searching for.
Being knowledgeable about the keywords you choose and the relative competition will go a long way towards helping you boost the SEO on blog posts.
3. Content Creation and On-Page Optimization
There is no SEO without content. Just like a car without an engine, SEO without content is a shiny machine that goes nowhere.
Since your readers are used to reading generic blog posts, you'll want to create killer content that will crush the competition. Think of blog posts that will not only address your reader's problems but also compel them to take actions.
A recent report from the Social Media Examiner found that over 50% of readers believe unique and relevant content is the most important type of content.
You'll also want to deliver content on a consistent basis to keep your readers engaged - a principle Google values and can help a lot in boosting SEO for blog posts.
Now that you already have a list of your target keywords, it's time to implement them into your site's content.
Here are the four key places where you should always place your keywords: URL, headline, meta description, headers, and body.
URL
One of the first places that search engines crawl on a page to determine its relevance is the site's URL. Since every post you publish has its own unique URL, make it a habit of inserting the keyword into the URL to boost SEO for blog posts.
Also, learn to create short and descriptive URLs as they are not only easier to copy and paste but are less likely to get cut off.
Title
Including the keyword in the title is vital. The headline is usually the first place search engines and readers will scan to determine whether the content is relevant.
Make sure the keyword is included within the first sixty-five characters of the title. This is typically the range within which Google draws the line on search engine results pages (SERPs).
Normally, Google employs pixel width, not the number of characters. The current pixel width is set at approx. 600 pixels, which is an increase from the previous 500 pixels.
The 600 pixels count is what translates to around sixty-five characters. So, to boost SEO for blog posts, make sure the keyword is included in the title and within the first sixty-five characters.
Headers & Body
Include the primary keyword in the body and in at least one header (H2 or H3).
While Yahoo recommends a keyword density of 3%, Yoast SEO maintains that the keyword density for your posts has to be between 0.5 and 2.5%. You don't want to go beyond this range if you're serious about boosting your SEO for blog posts.
Do not go overboard as Google can penalize you for keyword stuffing. A smart idea would be to think first of where to place the keywords before you start writing the copy, and to make sure it flows naturally. Don't try to force your keywords in.
Meta Description
The meta description (a tag in HTML) is the 160-character snippet that gives a summary of what's contained in a webpage you see on the SERP's. If a searched phrase appears in your content's meta description, search engines (typically Google) often display the meta description in the search results.
Therefore, including the keyword or the keyword phrase in the meta description is a great way to boost SEO for your blog and to enhance your online visibility.
A well-optimized meta description might be your only hope on SERPs to attract a visitor to your site.
4. Outline your Content in an SEO Friendly Way
Content outline is crucial and one of the most important aspects of content marketing.
Your content must be presentable and inspiring. The first impression is the last impression.
If you put your content in a prose form that makes the reader feel like they are reading a Charles Dickens novel, you can be sure they won't make it to the end.
Entice the reader with dazzling visuals, thought-provoking questions, illustrations, and case scenarios that bring your point home. Here's how you should outline your blog post to boost it for SEO.
Add Bullets, H2 and H3 tags
When content is split up, it becomes easier to read. Search engines also like it that way, and be sure to add H2 and H3 tags and include the primary keyword in one of the headers (as we mentioned earlier).
Use Attention Grabbers
Hook the reader by use of attention grabbers, especially in the introduction. You can start your copy with a mind-blowing statistic, captivating question, or an idea that will make them want to read more.
Use Short Paragraphs
Shorter paragraphs are more presentable and make it easier for the reader to digest. Aim for at most five sentences in each paragraph.
Make sure the main keyword is included in the first paragraph and try to place it towards the beginning. If you're using WordPress, check the bottom of the page where there is the Yoast SEO notes to see whether the primary keyword is in the right place.
5. Build Inbound Links
Link building is the backbone of SEO.
Despite all of Google's attempt to update its algorithms with new ranking metrics, quality and trusted inbound links still account for 20.94% of what ranks. But keep in mind that the source of the backlinks matters a lot. If it's an old domain name with high rankings, then the backlinks are good to go.
The right links coupled with useful and relevant content result in increased search rankings. Getting others to link to your blog posts isn't easy, but it's one of the most effective ways to boost SEO for blog posts.
6. Link Internally
Make sure each of your blog posts includes at least two-three links to relevant pages on your website. You can also link to older posts on your blog that have related content.
Wrapping Up on SEO for Blog Posts
Since content marketing is the vehicle that drives SEO, it's hard for your marketing efforts to succeed if you don't create blog posts on a regular basis.
But writing a compelling blog post that drives traffic is not enough. You'll need to optimize your posts to be visible on search engines. This includes on-site optimization such as link building as well as offsite activities such as social media marketing.
Check out our blog for more information on how to boost SEO for blog posts and become a content marketing ninja!
$('.post-single--social-mobile ul').html($('.post-single--social ul').html()); $('.post-single--social-mobile ul').find('li:first-child').remove(); $('.post-single--social-mobile').find('li').css('width',(100/$('.post-single--social-mobile').find('li').length)+'%'); setTimeout(function(){ $(".post-single--social-mobile").addClass("mobile-slide"); }, 2000);