Why Tracking Pixels Are Important for Home Builders (and how to use them!)
It's something you've probably heard about before, and the name suggests the purpose it serves. It's the tracking pixel!
And it absolutely needs to be on your home builder website and in used in all of your marketing efforts if you want to gather as much information about your audience, visitors, and leads as possible.
Reading time: 5 minutes

Level: Intermediate

Key Takeaways:

learn what a tracking pixel is and why it's so important for your home builder website to have one
common tools you can use to set up your pixel
details on the Facebook tracking pixel, the set up process, and why you absolutely need to be using this if you're publishing ads on the platform
Utilizing different tracking pixels and collecting the right information will help you better market your visitors and leads, providing a more personalized experience that translates into higher conversion rates at each stage of the home buying journey.
Before we get into the most common applications and the process for setting up your tracking pixels, let's do a quick overview of what a tracking pixel is and how it works.
What is a Tracking Pixel?
Think of a pixel like a piece of code in the form of a 1X1 pixel graphic that, when inserted on your website, can be used to track activities on every page. Only you can see the tracking pixel because the HTML and CSS code hides it.
The actions you track can be customized based on the information you want to gather. Some common tracking data you'll want to have include:
operating system and mobile device used
# of website visits
form submissions
landing page visits / visits without a conversion
time of day of visit
what pages they looked at and what they clicked on
email opens
Website Tracking Pixel
First, you'll want to make sure you are tracking all of your website actions with a code specifically for that. So what platform should you use to track it?
Google Analytics is usually the go-to website tracking tool because it's easy to use and you can keep all of your pixels organized with Google Tags Manager.
For home builders who already use a marketing and sales software, there is another easy way to add this code to your website.
Take HubSpot for example; a leading Inbound Marketing, Sales and Service Software. When you integrate it with your website, their special tracking code will then begin to track a huge variety of actions taken by your visitors and contacts.
With this tracking pixel, you can begin gathering insights on the actions site visitors take before they converted as a new lead, including which page(s) they visited, at what time, if they opened an email or not - the opportunities for tracking are very exciting and will help you increase multiple sales and marketing metrics moving forward if utilized properly.
You can also use this data to trigger new workflows for your leads, continuing to deliver the right message at the right time as you nurture them through the home buying journey
There's another big tracking pixel you need to have on your website.
Facebook Tracking Pixel
Each social channel has their own version of a tracking pixel, but the most common and beneficial one by far, especially for home builders, is the Facebook Tracking Pixel. With this piece of code, you can seamlessly integrate your paid and organic social media marketing efforts to your website for real-time tracking.
The data you gather can be then used to help create more refined custom audiences based on who will be more likely to engage with your home builder Facebook ad campaigns and complete the action you want them to do, whether that is viewing a blog post or downloading a content offer. You can even take it a step further by retargeting previous website visitors and bringing them back via your ads.
Let's run through the process for setting up your own Facebook tracking pixel.
How to Set Up the Facebook Tracking Pixel
First, you need to create a pixel. You'll do this within your Ads Manager, under the Pixels tab. Click "Create a Pixel" and voila! You have a unique pixel for your brand that will be used to track every aspect of your Facebook advertising.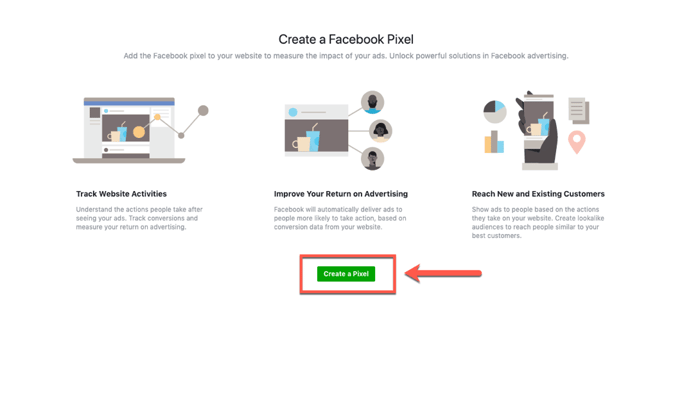 Once you've created your pixel, there are three different ways you can set it up:
1) Do you have a developer who takes care of all your site updates? You can choose to email the instructions to them. Selecting this option is an easy way for your developer to install the code where it needs to be.
2) Another option is to use an integrated web platform to install your Facebook tracking pixel. For example, if you have your website hosted on Wordpress, all you need to do is download the Facebook Pixel Extension and then add your new plugin found in the left sidebar navigation. Follow the instructions after uploading the plugin to activate and you're all set!
3) Your third option is to add the code to your website yourself. You will paste the code into your site header between the <head> <head/> tags. If you have a sales and marketing software (like HubSpot, mentioned above) then it's easy to do there as well in the Settings.
An easy way to check that your Facebook pixel has been successfully installed on your website is to use the Chrome Extension called Facebook Pixel Helper.
Here's a great video that goes through the process of setting up a Facebook Tracking Pixel and is a great visual to reference as you set up yours.
Now you are ready for Facebook advertising success! With this pixel, you can create all sorts of custom audiences to target your ads to, and can then track their actions within Ads Manager.
More website visitors, leads, and home sales are in your future when you're marketing to the right audience, with relevant content and offers to help them in each stage of their buying journey.

Your tracking pixels will add context to someone's intent and further build your home buyer persona(s) profile as you look to stay top-of-mind with your sales and marketing messages.

Originally published Dec 17, 2019

$('.post-single--social-mobile ul').html($('.post-single--social ul').html()); $('.post-single--social-mobile ul').find('li:first-child').remove(); $('.post-single--social-mobile').find('li').css('width',(100/$('.post-single--social-mobile').find('li').length)+'%'); setTimeout(function(){ $(".post-single--social-mobile").addClass("mobile-slide"); }, 2000);