How to Use Twitter as a Marketing Tool
Twitter is famous for giving people just 140 characters (and now a slightly better 280) to express themselves. You might be surprised to learn that this short-form social media site is also great for marketing.
Have you tried Twitter as a marketing tool yet? If not, you're missing out on valuable opportunities to connect with your customers.
With a strategic approach, Twitter can boost your bottom line by bringing in new customers and increase exposure to your business. All you need to know is how to use it effectively.
Reading time: 10 minutes

Level: Beginner

Key Takeaways:
In this detailed guide to using Twitter as a marketing tool, we've pulled together the most useful techniques for home builder marketing with Tweets, plus the history that made Twitter a valuable marketing tool in the first place.
Read on to learn everything you need to know about Twitter and marketing!
Oh, we're going to give you a bit of background about Twitter before we get into the specifics but if you want to skip that part, just click here ;)
How Twitter Got Started
Twitter is one of the world's biggest social media sites, with over 330 million active monthly users. The site is worth $4.4 billion and climbing! Today, many people love posting and reading tweets, and countless businesses use Twitter to help them with their marketing goals.
There was actually some controversy in Twitter's early days. The official version of Twitter history says one thing - but the real story is much more interesting.
The Official Story
First, we'll start with the official story given by Twitter's executives.
Evan Williams, a tech entrepreneur formerly of Google, founded a company called Odeo, which would be a platform for podcasts. Another former Googler named Biz Stone joined him in the venture.
However, iTunes' podcasting service by Apple knocked Odeo out of the park, making the company virtually worthless. A third Odeo worker, Jack Dorsey, joined Stone and Williams to replace Odeo with a company called Twitter.
Odeo already had investors, but they weren't a fan of the new platform. The founders bought back all their stock in the company instead. Soon, Twitter exploded into the wildly popular site that we know today, making the founders massively successful.
The Real Story
It seems it was someone named Noah Glass, not Evan Williams, who actually founded Twitter's predecessor Odeo. Who was he and why did he get left out of the official story? Let's take a look.
Ray McClure, one of the company's first employees, says that Glass created Odeo based on technology that could turn a phone call into an online MP3 recording. Glass also had a number of early investors in the company; one of those investors was Evan Williams.
It's true that Williams had worked for Google previously. But it's not true that he was the real founder of Odeo. However, he was very involved in the company from the start, in a way that investors usually aren't. In fact, Glass eventually moved Odeo's operations into Williams' apartment.
Williams was able to host the company because he had recently sold his company Blogger to Google, and used the proceeds to buy a house. His now-vacant apartment was the perfect place to run a business from.
Twitter's Inception
Glass, Odeo's founder, discovered that his new employee Jack Dorsey was a rising star in the company when he offered a brilliant business idea. Dorsey suggested building a platform that was simply based around what people were doing in the moment - or, their current "status."
Dorsey was much more excited about this new idea than about working with the failing Odeo project. Glass got on board, and they presented the idea to the rest of the employees.
The idea they presented was called Twitter. This platform allowed users to send a text about what they were doing, which all their friends would be able to see.
Williams wasn't too sure of the new idea, but he allowed Glass to head up the project. Stone also helped out on the project occasionally, but Glass - not Williams - was in charge.
And Dorsey, in fact, should be credited with the original idea for what would become Twitter. However, Glass was the one who was excited enough about the project to run with it. He loved the idea of being so connected with other people that you could let them know what you were up to at any moment.
Why Twitter is Great for Marketing
One of the top reasons to use Twitter as a marketing tool is simply because so many people are on it. From breaking news to live events and trending topics, users are constantly referring back to Twitter to get their information. In fact, Twitter's slogan sums up the platform nicely - "It's what's happening."
Twitter is practically a household name now, and home builders who aren't using it as a marketing tool are missing out. If this includes you, it's time to get started - and it's easier than you might think. Let's take a look at the top ways to use Twitter as a marketing tool for your home builder business.
8 Ways to Use Twitter as a Marketing Tool
As with all marketing strategies, the best ways to use Twitter are constantly evolving. Right now, these are the top strategies in the game:
1. Connect with Influencers
Since its inception, Twitter has been a platform that's all about connections. What better way to use it than to connect with people who are influential in your industry?
Twitter is a fun, informal way to reach out to influencers. If they spend a lot of time on the site, you're likely to get a response - people love it when a company reaches out to them, and to be honest, have reached a point where it's almost expected.
You can also follow and interact with your prospects, even if they aren't influencers. This will help you build a reputation as a brand that really cares about its clientele.
Social media connections can't be an afterthought. You want to respond, reach out, and talk to your prospects and people in your niche on social media because it's an important part of modern communication. If you're not talking to people on Twitter, you won't stay at the forefront of their minds.
Make a list of the most important home building industry influencers, and put extra efforts towards connecting with them, since they're most likely to benefit your brand. But be careful not to be too promotional or sales-y. People respond much better to casual, genuine connections.
Home builders should also be connecting with influencers in the communities they build in. Build a list of accounts including local businesses, TV and radio personalities, news stations, and community leagues.
Monitor your list often. Share fun events happening around the city and start conversations, showing your brand's commitment to where you build.
2. Build a Great Bio
Your Twitter bio is one place people are likely to look for information about your brand. To use Twitter as a marketing tool, you'll need to have a polished bio that reflects your home builder brand well.
Do you know how to get your company's voice across on social media? If not, you'll need to learn. People connect better with brands that have a distinctive voice they can recognize on different platforms.
Your bio should say enough about you that people who have never heard of your business before will know what you're about right away. It also needs to have a link to your website or landing page. This is an easy way to attract followers back to your site right away.
Here is an example of a great Twitter bio for a home builder: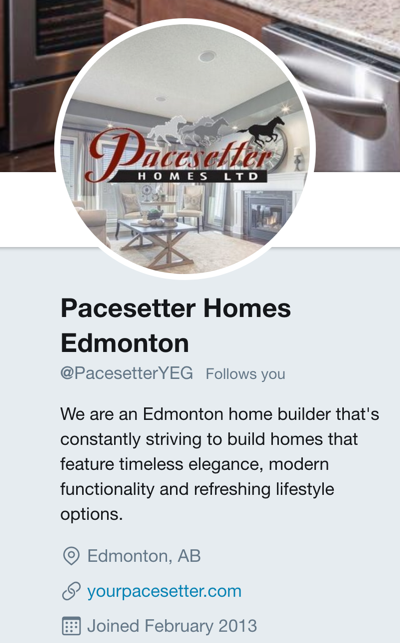 3. Get Employees on Board
If your employees don't want to interact with your brand on Twitter, you can't expect your followers to.
Having interactions with employees on social media helps build brand legitimacy. Customers trust a brand that has a good relationship with its employees. Encourage everyone in the company to get involved. If they don't wish to use their personal accounts, suggest setting up a branded Twitter account for them.
This way, you can keep your brand message consistent while making it easy for your followers to spot who your employees are. There will be more chances for interactions with your company, too!
For example, your sales rep, Kate, would have a Twitter handle that might look like this:
@Pacesetter_Kate
When you tweet content your employees want to retweet and respond to, your prospects will follow suit. Adding some extra motivation like a gift card for the employee who is most active on Twitter for a certain month doesn't hurt either :)
4. Ask for Attention
It's not bad form to ask for a follow, retweet, or mention on Twitter, as long as it's done in a casual and positive way. Sometimes, asking your followers is all it takes to get a share.
For best engagement results, save your asks for when you run a contest so there is something in it for your followers. They will happily retweet and tag their friends in posts if they can win something!
5. Tweet Early and Often
The time you start tweeting will depend on when your target demographic is most active online. However, you'll want to be sure to stay on top of things so your tweets are at the top of their feeds each day.
Once you've started, keep tweeting with consistency throughout the day. Things move fast on social media. If you want to use Twitter as a marketing tool, you need to keep putting out content for customers to interact with.
Posting daily keeps your brand in potential customers' minds. This can translate directly into more homes sales and customer loyalty.
6. Keep an Eye on Mentions
When people mention your home builder brand on Twitter, do you know what they're saying?
Keep an organized list of who mentions your brand, and what they say about it. It's a good idea to respond, whether the mentions are positive or negative. If it's positive, you can use that to springboard a healthy relationship. If it's negative, you can find a way to make things right, publicly proving that you care.
Whether it's praise or a complaint, a professional, proactive response to your mentions will go a long way.
7. Keep Up With Trends
Look at trending topics and hashtags to stay up to date on the latest trends in the home building industry.
Find the things people are talking about - especially those that connect to your brand - and translate them into marketing. Customers love a brand that's current and relevant. If you're not on top of the trends, they probably won't trust you with their business.
It's important to remember, though, incorporating trending hashtags just to be included in the conversation can backfire. Avoid controversial topics and focus on fun trending hashtags that you can relate back to your home builder brand in some way.
There is a "day" for everything. Is today #NationalPizzaDay? Show off your creativity with this hashtag! A sales rep can head out for a slice on their lunch break, take a quick shot of them in the kitchen, and voila! You're promoting your brand and showing you can have some fun at the same time.
8. Use Visuals
Although Twitter is famous for being text-based, to use Twitter as a marketing tool you also need to get visual.
Great images and videos help catch people's eyes online. This is as true on Twitter as it is when you attempt to market on Instagram. Make sure the visuals you post have a consistent tone that's in line with your brand.
An easy way to implement this is by sharing images of your show homes so your followers can get a sneak peek of what to expect when they visit.
Ready to Use Twitter as a Marketing Tool?
Using Twitter as a marketing tool isn't necessarily hard. However, it can be time-consuming. The more you learn about social media marketing, the more success your business will have - and the faster you'll be able to get your social media marketing done.
Need help with marketing on other platforms? Twitter is just one place to start - you can also learn how to tackle Facebook marketing.
Summary
Often, the greatest inventions have the best stories of how they came to be (or almost didn't). Twitter has a pretty interesting timeline, and you'd be surprised to know that its path to becoming one of the world's most popular social networks started with podcasts...
After a quick history lesson, it's time to dig into Twitter as a marketing tool and the ways your builder brand can succeed on the platform.
Knowing the right influencers in your market to connect with will take your home builder brand a long way on Twitter. As you grow relationships with prominent people and businesses in the communities you build in, they will be more inclined to share the exciting updates you're posting about.
It may sound like a basic tip at first, but creating a strong Twitter bio that sums up your brand nicely and gives followers an idea of who you are and what they can expect from you is very powerful.
A great home builder Twitter account is only as strong as the passionate employees they have. Encourage them to engage with your content, even posting and sharing on a branded employee account! Make it fun and worthwhile for them - something as simple as a prize for "most social" can take your Twitter marketing strategy to the next level.
There's nothing wrong with asking for engagement every once in a while, especially when you're running a contest. Ask followers to Retweet a Pinned Tweet in order to be entered. Soon, your reach and number of entries will start to soar!
Keep up the marketing momentum by Tweeting great content daily. And not just your content, either. Share timely events in your city and other fun home-related tips and ideas. An authentic brand shares what their followers enjoy reading, with some self-promotion sprinkled in.
Keep an eye on who mentions your brand - both good and bad. Respond appropriately, and do your best to listen and act. You can turn around relationships pretty quickly just by acknowledging someone's concerns. Your other followers will see that you care, and because you take the time to respond, they will see the positive brand mentions in their feed too.
New topics and hashtags are trending daily. Pay attention to them and don't be afraid to jump in the conversation. You can take a playful spin on certain hashtags and incorporate them into your posts. It builds authenticity for your brand, and your followers get a sense that a real (sometimes funny) person is behind your account.
Don't forget to use lots of visuals! This is easy to do for home builders. Try sharing photos of your show homes and encouraging your followers to stop by for the full tour.
There you have it. You're ready to start using Twitter as a marketing tool for your home builder brand!
For more tips on how you can leverage social media to sell more homes (or anything else related to marketing for home builders) check out our blog - we'd love to tell you more!
$('.post-single--social-mobile ul').html($('.post-single--social ul').html()); $('.post-single--social-mobile ul').find('li:first-child').remove(); $('.post-single--social-mobile').find('li').css('width',(100/$('.post-single--social-mobile').find('li').length)+'%'); setTimeout(function(){ $(".post-single--social-mobile").addClass("mobile-slide"); }, 2000);