The Ninja is No More: Announcing Marketing Ninjas New Brand
The last 10 years have been a helluva ride. We've seen our company grow, our services evolve, and our client base expand across North America. It's been amazing. And now we're ready to take it even further.
Over the last year, we've been developing a new identity that better reflects how we work with the real estate industry. One that will help us continue to scale up our business and help more builders and developers to grow and sell more homes.
Changing a brand is a challenging but exciting journey, and we wanted to share ours with you. So whether you're thinking about embarking on a similar adventure or you just want to get some behind-the-scenes insights about how and why we came to the decisions we did, this post is for you.
Why a new brand?
Originally, we were dubbed Marketing Ninjas by one of our early clients over a decade ago; someone who sent us a lot of referrals and was a huge evangelist for us. We thought it was cheeky and edgy, so we decided to own it and built our brand around it. We even got our little ninja character custom designed by a professional animator!

As time went on, we started to attract bigger clients and projects from across Canada and the United States, and while the name remained unique and memorable, it was very polarizing - people either loved it or hated it. It started to feel like it was a better fit for the smaller local brick and mortar businesses we were originally serving than for the larger up-market real estate organizations we are working with now.
Additionally, in the past few years, our services have expanded beyond just marketing. We've evolved into a full-blown growth agency - helping our clients with marketing, sales, customer service, process automation, operations and more.
So with all that in mind, we knew we needed to eliminate "marketing" from our name as it no longer accurately described what we do. We also didn't feel totally comfortable listing our Marketing Ninjas brand outside of development projects we were marketing, which for us was a major indication that it was time for a change.
Today we're excited to announce our new brand:
Marketing Ninjas is Now Velocity23

We're thrilled to unveil our refreshed brand identity. Over the last year, we've poured our hearts into creating a new image that accurately reflects who we are and what we do in a polished and professional way. This rebranding is a natural evolution of our company since its founding in 2008.
Why Velocity23?
It took us a long time to settle on a new name - in fact, that's the main reason we haven't rebranded sooner. We wanted something that was unique, would accurately describe what we do (and how we help our clients) and had a lot of branding potential.
Our core service is centered around helping clients achieve their growth goals. We pride ourselves on how quickly we can move an organization from where it is today to where it needs to be to achieve its sales and growth goals. So we wanted a name that had to do with motion and speed.
We are also partners with HubSpot and have embraced their flywheel model of how to grow a business. So having a name that allowed us to more naturally utilize the flywheel principle was important to us.
Our founder has been in love with cars, performance and racing since he was a teenager, and so we naturally gravitated towards something based around that.
But there's also a philosophy to the name: at some point, we started using the analogy of an engine when explaining our core service. We often refer to it as building a marketing or growth engine. In an engine, all of the components need to work together in a precise way in order to get output. And the better components and fuel you put into it, the greater the effective output will be.
So the higher quality engine you have, the faster you can get from where you are now to where you want to go - speed plus direction - the essence of Velocity.
Looking at those elements, we felt Velocity was the perfect fit.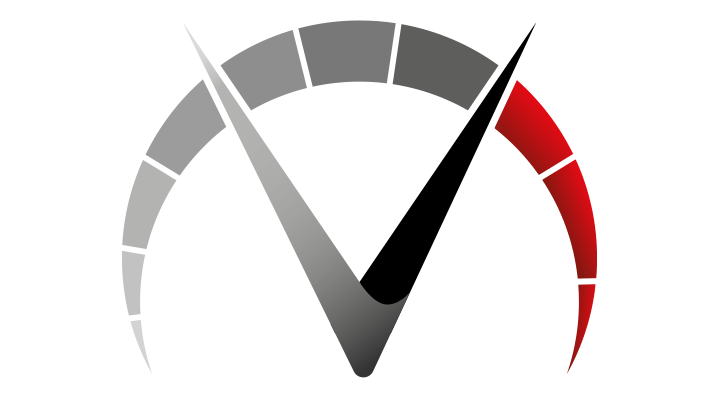 The logo mark of our new branding is significant. The obvious 'V' stands for Velocity to help build brand awareness when it's used on its own.
The semi-circle of segmented bars was designed to represent the tachometer on a machine's instrument panel. The tachometer measures how many revolutions per minute (RPM) the machine is operating at and is used to estimate speed.
The left hand of the 'V' was designed to look like a needle on the gauge and represents where your business may be at now. The right hand of the 'V' is also a needle and signifies where we can help you get to - operating at peak performance just short of the red line.
They're small, but meaningful details. Every aspect of our new branding serves a purpose.
What Does the 23 Stand For?
As it turns out, there are a lot of companies with every conceivable variation of the word Velocity Group/Consulting/Media etc. in their names. That meant no available website URLs that aren't absurdly long or use obscure top-level domains. This required some outside-the-box thinking, which luckily is our specialty!
Velocity has a lot of meaning to us, and we wanted the other unique part of our name to be meaningful too.
We started looking into numerology and what we learned is that the number 2 is a symbol of partnership, balance and harmony. This aligned perfectly with how we like to work as an extension of our clients' teams.
Looking further, we found that the number 3 represents expression, communication, and creativity. This aligned with how we like to think outside the box and represents how we help our clients communicate through content.
So 23 made for the perfect addition to our business name.
We then discovered that there's an entire field of numerology dedicated almost entirely to the value of your business name, known as a Destiny number. So for fun, we calculated our business number and came up with the number 8, which represents building things, creating tangible outcomes, and success. That number's derived from the combination of 44 and according to business name numerology can make you the greatest player in the field.
We're not all "woo-woo", we promise. We just thought looking into the meanings of the numbers we chose for our business would be fun. If it brings us great fortune and success - well we don't think anyone will complain about that!
How Does This Affect What We Do?
If anything, this new name opens up more doors for us. It gives us a more polished appearance, and it allows us to really step into our element as a major player in the growth agency space for home builders and developers across North America.
This rebrand has been a long time coming and we're really excited about it. Being the Ninjas was fun - we put a lot of effort into building that brand and we saw excellent success with it.
Velocity23 is going to take our ability to serve the industry to a whole new level.
$('.post-single--social-mobile ul').html($('.post-single--social ul').html()); $('.post-single--social-mobile ul').find('li:first-child').remove(); $('.post-single--social-mobile').find('li').css('width',(100/$('.post-single--social-mobile').find('li').length)+'%'); setTimeout(function(){ $(".post-single--social-mobile").addClass("mobile-slide"); }, 2000);