10 Insanely Creative Home Builder Marketing Tips to Try in 2018
In an industry that can be unpredictable and have its highs and lows, it can be hard to come up with creative home builder marketing ideas.
The industry has seen massive successes, but the housing market crisis in the early 2000s proved its volatility. While things have since improved and the industry is on the up-and-up, competition has heated up along with it.
Now more than ever, it's crucial for your company to try out some creative home builder marketing tactics in order to stay ahead of the game.
Reading time: 12 minutes

Level: Novice / Intermediate

Key Takeaways:

Learn how to write a powerful subject line
Discover the best times to send your emails
Learn how to utilize segmentation and precision targeting
Get a better understanding of what content the home buyer is interested in

If you'd like to read a summary of this post, simply click here.
While there are many factors that threaten your creativity, the stressors you have at the workplace are a big one. Day-to-day responsibilities grow monotonous and a strong fixation on improving your bottom line becomes your main prerogative.
If you're not naturally a creative person, don't worry! We have some great suggestions that you (or that one employee who can't stop doodling in her notebook) can try out. Who knows, you may even become inspired and come up with some ideas of your own!
Creativity is key here. It's all about turning heads and catching peoples' eyes. We have compiled a list of 10 exciting and creative real estate marketing methods to help you grow your business in 2018.
1. Light Up Your Social Media Platforms
In 2018, your business should certainly be on social media. If you're already at that point, you've successfully completed level one. But what platforms should you definitely be using and what kind of content should you be sharing on each of them?
How do you really "do" social media?
That's level two.
And trust me, there's a level 3, 4, 5, and 6, but we've got to start somewhere.
The Almighty Facebook
It goes without saying that you need to be on Facebook; the main reason being that it's the most popular social media platform in the world. Even if you acquire most of your clientele elsewhere, your prospects may sense an air of illegitimacy if they can't find you on Facebook.
If you already have a business page, that's great! Just make sure to fully optimize it and you'll be even closer to increased credibility in the eyes of your target audience.
Keep in mind that everyone from your 18-year-old niece to your grandma is on Facebook, so adjust the things you share accordingly. Share things that you know your audience will love - whether it's a lifestyle piece such as a recipe or a blog post highlighting one of your show homes!
Since Facebook bought Instagram in 2012, you actually need a Facebook business page to set up a business page on Instagram (coming up next!) - and yet another solid reason for your company to be on Facebook.
Instagram: the Vanity Platform
This social media giant is amazing for sharing top-quality images of your show homes, communities you build in, and other visually appealing images. Instagram is extraordinarily popular with millennials; in fact, 59% of internet users between the ages of 18 and 29 use Instagram! Don't miss out on the opportunity to capture this market. If you want to be popular on Insta, you're going to want to:
Post crisp, professional images at least 2x/day

Use hashtags that are relevant to your industry ( #buildersofinsta , for instance)

Maintain a stunning appearance on your Instagram feed
Take, for example, the Instagram feeds of these builders:
Aragon Properties ( @aragonforward )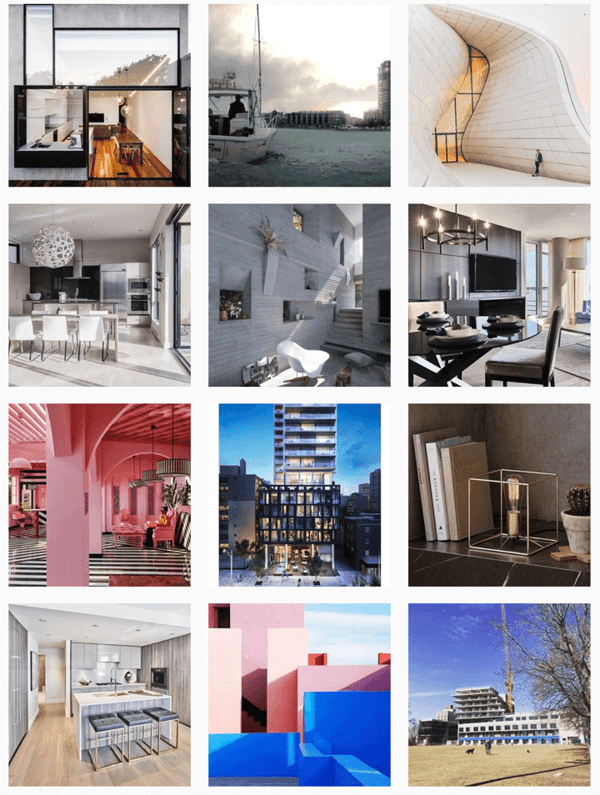 and Adera Development Corporation ( @aderahome ) :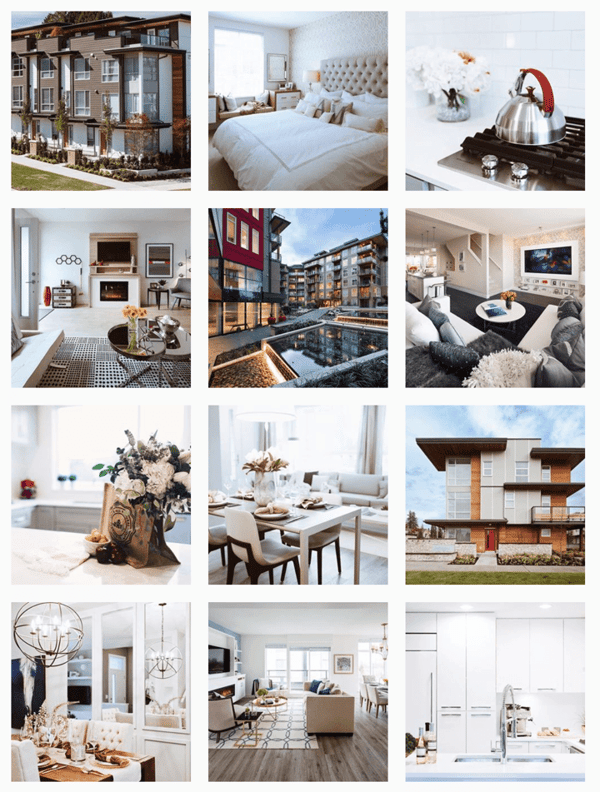 Having a beautiful Instagram theme can mean the difference between whether or not you gain a large following. Make sure your photographs are on point and - if you need to - use stock photos to fill in extra space or achieve your desired aesthetic.
LinkedIn: Facebook for Business
LinkedIn is a great place to establish yourself as an industry leader, showcase your business credentials, and build a network of engaged professionals. What I like about LinkedIn is that it's very community-oriented and reaching out to others is less "taboo" then it would be with Facebook.
Get creative with your conversation starters and spark up a topic of mutual interest - when it comes to LinkedIn, the magic lies in your ability to network. Plus, they offer users $50 of ad complimentary ad credits - why not give it a try?! Try to post content on LinkedIn daily and share things that inspire conversation and establishes you as an industry leader.
With social media management, there's no "one-size-fits-all" formula, but you're going to want to invest some time, creativity, and if it's in the budget, advertising dollars into the Big Three. As with any art project, you have a limited set of time and financial resources available to you, so develop a plan that makes sense for your business.
Don't forget about the benefits of other social media platforms, such as Pinterest or Twitter. For instance, being active on Twitter allows your audience to address customer service issues, give you positive feedback, and engage in an open dialogue with your company. Pinterest is another great place to share images and content as well.
2. Build Outstanding Rapport
Remember, the more people know, like, and trust you, the more likely they're going to be willing to do business with you. What's one of the best ways to accomplish that?
You guessed it: building outstanding rapport.
Why not invest in educating yourself and your staff on how to "make people tick"? It'll help make your team all the more alluring to potential customers and much, much more efficient at capturing new leads and closing sales.
Whether it's on social media, over the phone, or in face-to-face interactions, there's something to be said about a person who evokes strong rapport quickly.
Something as small as remembering someone's birthday can mean all the difference in the world. Demonstrating that you pay attention in your conversations with clients is a top-tier rapport-building skill.
And, if you have trouble remembering such details (as many people do ), the good news is that you don't actually have to remember anything at all! A great CRM ( customer relationship management ) tool such as the one offered by HubSpot can help you record these details - just make sure to review them before your next meeting!
The great thing about building excellent rapport is that everyone benefits. As a social creature, you can't help but love having a sense of connection with another person - they love it too. Plus, you can't ever complain about closing more sales!
Pro tip: send a hamper or a gift basket to your new customers on possession day. This is especially warming to those who have moved to a brand new area. Sending them a guide of local attractions, movie theatre vouchers, restaurant vouchers, a bottle of champagne, etc., is a great way to encourage positive reviews and recommendations!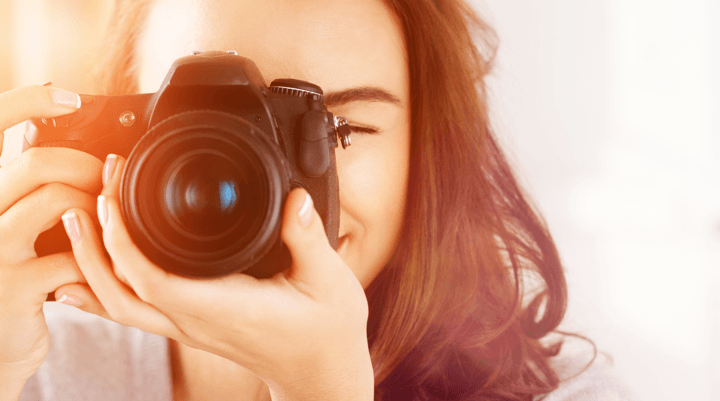 3. Take Your Photography to The Next Level
One huge advantage to the home building industry is that it's inherently very visual.
Use accessible local imagery to highlight the communities you build in. This allows your prospects to revel in the sight of their future shopping malls, hiking trails, nearby schools, and more. Don't forget to toss in the most stunning pictures of your company's homes as well.
Keep in mind that people love pictures of other people! When we see a happy couple smiling in front of their new home or children getting on the bus for their day at school, we can't help but feel warm and fuzzy inside. These feel-good experiences ultimately translate into more clicks, website visits, show home traffic, and ultimately, more sales. Stock photos that appear to be candid are a great resource for these types of photos. However, if you can, get your sales reps to take pictures on possession day! Real people, your homes - it's a great combination.
Select only the most eye-popping images of your homes. Great images:
are high resolution

are aesthetically "balanced"

are taken in areas with great lighting
A surefire way to make magic happen is to hire a professional photographer and graphic designer. These people are masters at infusing creativity into anything they do, especially when it comes to top-notch images for your marketing.
Oh, and don't forget to promote these images on your social media platforms - especially Instagram!
4. Offer Impeccable Digital Experiences
Having photos is key - there's no way around it. But if you can go further to really offer your customers a next-level experience, that's even better!
Put yourself in the shoes of your buyers for a minute. If you had the opportunity to explore a home before making an appointment to view it, would you?
People hate wasting time and would much rather weigh out their options before taking the plunge and blocking out a couple of hours to view a show home. What better way to digitally experience your future home than a virtual tour?
Whether you fire up your computer's video editor and create the tour yourself or use professional 3D tour software, this truly creative home builder marketing method allows the house-hunter to almost step inside and look around before physically making the trip there.
Another creative idea that helps your prospects really experience a community is aerial video. There's just something quite captivating about it. Utilize one of the most popular technologies for photography and videography at the moment and include aerial views of your properties. Your customers will thank you!
Get drone imagery of the neighbourhoods and the properties themselves on to your listings and provide browsers that every-angle viewpoint.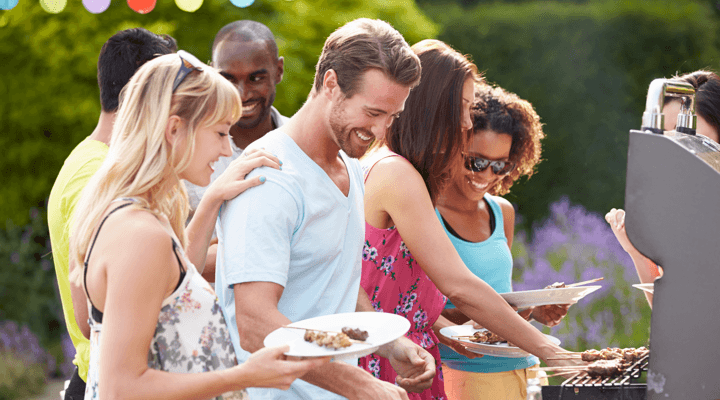 5. Bring People Together
Nothing says "community" like a group of people having fun. So promote your company by throwing events, gatherings, or mixers.
Plan an event around the openings of one of your show homes - it gives people, especially families, all the more reason to come out for a visit (and possibly invite some of their friends)!
A lot goes into planning an event, but at minimum you're going to need:
A Facebook event page with your event information

Posters and other print material (optional)

Visuals that showcase the home or community

Other incentives such as food, contest entries, etc. (highly recommended)
In the summer, you can be sure that a local food truck would be more than willing to set up shop outside your event. What better way to end a tour than grabbing some delicious butter chicken afterwards? Advertise incentives such as food, contest entry, or give-aways to make the trip out your event more enticing.
Pro tip: if you do host an event, try using the Live feature on your Facebook or Instagram account - when you go live on Facebook, your audience is notified immediately!
6. Invest In Company "Swag"
Creating branded "swag" ( pens, mugs, t-shirts, etc.) for your company is a win-win. Not only are these items relatively cheap to produce (especially in a bulk order), people love free stuff and giving away items with your logo on them is essentially having them do your advertising for you.
It's crucial to get your logo, name, and image out there. If your logo is vibrant and exciting, this in itself is a creative home builder marketing tool. Give out branded goodies at local festivals, events, and those social gatherings I just mentioned!
7. Show Off Your Delighted Customer Testimonials
Don't forget to tap your former or existing clients for glowing references about the fantastic service you've offered them.
So many online buyers will head straight to product reviews before making a purchase. This allows them unedited and honest opinions. If you have willing clients who are happy to write testimonials about their experience of working alongside your company, then use this to your advantage and use it as a marketing campaign.
One home builder marketing method would be to take certain lines from one of these and use it as a header on your website's homepage. Just make sure that with any testimonials that you have your customer's permission before publishing them!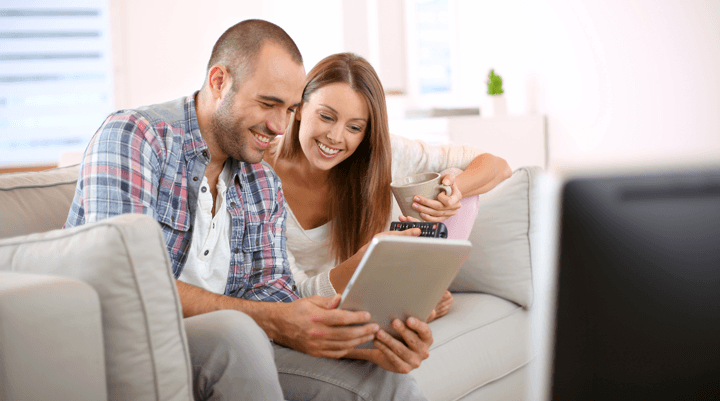 8. Create Videos That "Wow" Your Audience
One way of making your business a lot more approachable and personable is to share videos, especially on social media.
Start a series on YouTube and feed it into all of your social accounts and your website.
Make sure to create videos that are vibrant, friendly and include text/captioning. These days, many people view content on their mobile phones and keep the volume down in public places (for example, while in a taxi).
If you incorporate videos into your home builder marketing plan you're likely to see an increasingly engaged audience and more reach on your social media posts. As I mentioned earlier, going live on Facebook or Instagram is a great strategy! This also give you the ability to interact with them in real time.
9. Start Business Blogging
Giving your company and service a voice is important. Incorporate this into your marketing strategy.
If you have a staff member who is particularly good with words, happens to be charismatic, and has a professional and polished appearance, make them the face of the company. Give them an expert blog or column to publish each week.
Perhaps you can rotate it between several columnists. Just make sure it's not dull statistical fodder. Let them be fun (yet professional) and, most importantly, incorporate topics that are interesting and valuable to your target audience.
This home builder estate marketing method might even garner them, and in turn the company, a fan base of sorts.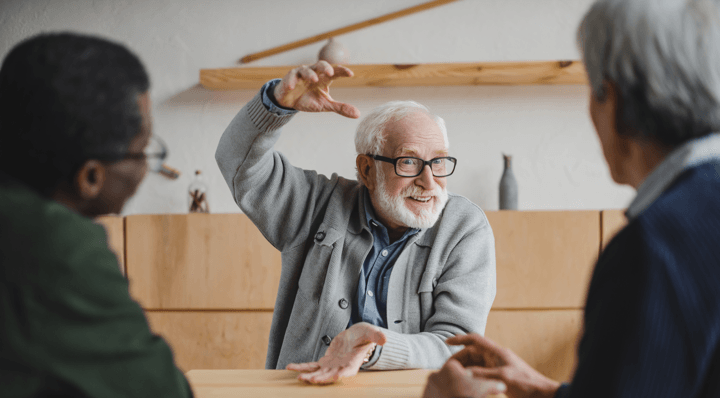 10. Tell a Story
Make your listings unique and special.
Real estate often involves reeling of details and lists of features and information, which is important. But if you can embellish your advertisements with a bit of creative storytelling, why not try it out? You might find that it's a great way to attract even more interest to your stunning show homes.
Use language that resonates with the subjective experience of your target audience. Try reframing a "home" as your prospect's "castle", "palace", or the "home of their dreams". Use words that inspire positivity in the minds of your target audience, whether you're writing about their lifestyle, your magnificent show homes, or the stunning communities you build in.
Another way to use storytelling in your listings is to share stories of your past clients or buyers (with their consent). Include anecdotes about them or about the property in question. Make it about more than just bricks and mortar.
Capture browsers' attention and give your homes and your company a personality.
Go beyond the standard listing template and draw upon a property's unique aspects that make them one of a kind.
What's The Next Step?
Getting creative with your home builder marketing is important, but there is so much more that goes into a strategy that drives results. It can be hard to stand out from in a sea of competition and get the attention your company deserves.
At Marketing Ninjas, we specialize in creating a strategy that speaks to your ideal customers at every stage of their home buyer's journey.Our integrated approach allows us to measure the effectiveness of our marketing system and identify areas that can be improved. We're an inbound marketing agency specializing in new home marketing that provides a proprietary marketing service that is prospect-focused, ROI-driven, and quantifiable.
Get in touch to find out how we can help you with your home builder marketing.
Summary:
In order to thrive and survive in the competitive world of home builder marketing, you're going to have to get creative. A good goal to have for 2018 is to get active on the big three social media platforms - Facebook, Instagram, and LinkedIn.
Some great creative ideas for content creation include: creating impeccable digital experiences for your target audience, captivating your followers with stunning pictures of your show homes and communities, and making videos that wow your prospects! With any content you create, keep in mind to tell a compelling story - starting with your company blog.
Once you've gone all in on your social media accounts and content creation, now is the time to focus on building outstanding rapport with your target audience. Bring people together at community events and impress them with fantastic "swag" - cups, pens, etc. - branded with your company logo. Once you've converted a lead into a satisfied customer, make sure to ask for a great testimonial.
Finally, remember to keep in mind that there's more to creativity when it comes to your home builder marketing strategy. Marketing Ninjas is here to help you craft a plan to take your business to the next level!
$('.post-single--social-mobile ul').html($('.post-single--social ul').html()); $('.post-single--social-mobile ul').find('li:first-child').remove(); $('.post-single--social-mobile').find('li').css('width',(100/$('.post-single--social-mobile').find('li').length)+'%'); setTimeout(function(){ $(".post-single--social-mobile").addClass("mobile-slide"); }, 2000);